I know that I gave this info a bit late ;) But it's all because of not many updates about Briana and that I don't always have much time! Briana is almost done filming her next film "Stash House". I decided to give you more information about the movie.
Directed by Eduardo Rodriguez (Fear Itself, Blood Cell);
Producers are Joel Silver and Robert Zemeckis (from Dark Castle productions).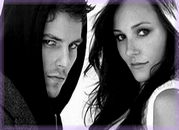 Co-stars:
Sean Faris (Forever Strong, The Vampire Diaries),
Lundgren (Rocky IV, Universal Soldier),
Jon Huertas (Castle),
Ochse,
Lance E. Nichols,
Lawrence Turner and others.
Plot Summery:
A couple love their new house, bought for a steal out of a foreclosure. During their first visit they find illegal drugs stashed in the walls, and they realize this is not their dream house. As they are about to leave, suddenly their exit is blocked by a gun-wielding neighbor Spector and his accomplice. They come to realize the house is hiding more than drugs - it's the operation center for mass drug czar who is buried beneath the floorboards. On the run from the professional killers who want the drugs and evidence, the resourceful couple will need to turn the tables on their attackers to survive.(by IMDb)
The movie should be out sometime in 2012.
Many thanks to
BriEviganOnline
for info!